I don't know about you, but my summer just started and I am crazy exhausted! I just finished my second year of grad school for playwriting and I feel completely consumed by pressure, my studies and prep for going back in the fall. For a while I kept thinking that summer is the perfect time to OD on hw and cry a lot and think about school. But so much self-doubt and stress can be really triggering and it's important to remind oneself that the summer can be a perfect time to take some self-care steps and decompress from a long academic year. Here are some tips below on fun things to do this summer to decompress and get you all pampered and pumped for the fall!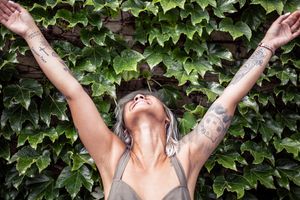 Take up Yoga as a new hobby (you got dis!)- Yoga might seem like a sexy thing that only celebrities do but it really is for everyone and you don't have to be crazy flexible to do it. I have been feeling pretty anxious from all the constant pressure I was getting in grad school, so yoga has been a great way for me to work on ma breathing and being in the moment. Also there are lots of different types and levels of yoga, my favorite is restorative since you don't have to move a lot!! 
Catch up with Friends- Sometimes you get so busy with work or school you forget about people who are just way too fun to talk to. The summer can be a perfect time to reconnect with old friends. Being with people who make you feel good is a great way to take care of yourself and relax! 
Go to a new restaurant – When I was struggling with my eating disorder, food always felt stressful to me because I felt I was eating too much of it or the "wrong" things. It's helpful to remind oneself that food can be fun and pleasurable. I am such a foodie now so I love wandering around NYC and trying to find a new place to eat that has exotic pink milkshakes or really long hot dogs, anything instagrammable.

Have a happy summer everyone!! And remember to relax and take care of yourself!

By Catherine Weingarten