The holidays are here! For some, that means decorations, family & friends, music, food, and festivities. However, for many people, the holiday season means just one thing: stress. The holidays can be especially difficult for those struggling with ED or for those in recovery.
One of the most important things to remember this season is that
you are not alone
. If you find yourself struggling, don't be afraid to reach out for help! You're worth it. It may also be important to give yourself permission to enjoy the celebrations. Give yourself permission to take part in festivities, and to enjoy yourself.
There are many resources out there this year for holiday support, but we wanted to share one of our favorites: The NEDA (National Eating Disorders Association) Holiday Guide (to read, click on photo below):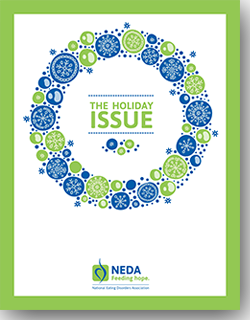 Another place to find support is through the NEDA helpline:
1-800-931-2237
One thing is for sure, the more support you have around you, the better chance you'll have of enjoying the holiday season!